This is a Sponsored post written by me on behalf of Carton Smart for SocialSpark. All opinions are 100% mine.
There was a time when things like recycling, overflowing landfills and living green just never entered my mind.  I was busy raising kids and there wasn't the wealth of information available then that there is now.  However, the kids are almost all grown and with more time on my hands I spend a lot of it researching and reading information that I come across.  I don't really ever see myself as that person who recycles everything, lives completely green or consumes nothing but organic food but I would like to think that I can and will make small changes when and where I can.  This is where Tetra Pak cartons come in.  Tetra Pak cartons are made of 70% paper, from selectively harvested, re-grown trees that are Forest Stewardship Council certified.  Cartons use only 1/3 of the packaging when compared to cans.  They are space saving, easy to store and open.  You can learn more about Tetra Pak cartons and the foods which are sold in them by visiting Pacific Foods so that you too can Become Carton Smart.  You can also learn more by visiting Carton Smart on Twitter – Tweet @CartonSmart and following them on Pinterest – Follow #CartonSmart on Pinterest.  This Broccoli Cheese Soup was made using Pacific Foods organic Chicken Simply Stock.  The flavor was just as good as any other stock I typically use and I felt good about using something that was organic as well as better for the environment.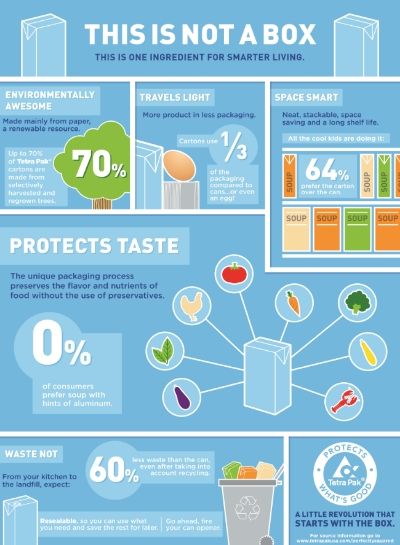 Oh, and this Broccoli Cheese Soup.. yeah you are going to want to make it!  It is so rich and creamy and full of deliciousness!  Make a big pot because it's just as good the second day as it was the first.
Ingredients
2 tablespoon butter
16 oz. Pacific organic chicken stock
4 cups water
1/2 cup butter
1/2 cup flour
3 cups heavy cream
6 cups chopped broccoli florets
3 teaspoons salt
1 teaspoon pepper
4 cups mild cheddar cheese
1 cup sliced celery
Instructions
Sauté celery in 2 tablespoons of butter until tender.
In a dutch oven or soup pot melt 1/2 cup butter over medium heat. Slowly mix in flour completely. The mixture will be thick and paste like.
Add chicken stock and water slowly – to the flour mixture - while stirring frequently.
Add heavy cream and continue mixing until smooth – making sure no lumps remain.
Add broccoli florets and celery. Bring to a boil.
Reduce heat and allow to simmer for 20 minutes, covered.
Add salt, pepper and cheese – stirring until cheese is completely melted.
https://yoursandmineareours.com/broccoli-cheese-soup-2/
~ Enjoy!
Posts may contain affiliate links. If you purchase a product through an affiliate link, your costs will be the same but Yours And Mine Are Ours will receive a small commission. This helps cover some of the costs for this site. We appreciate your support!